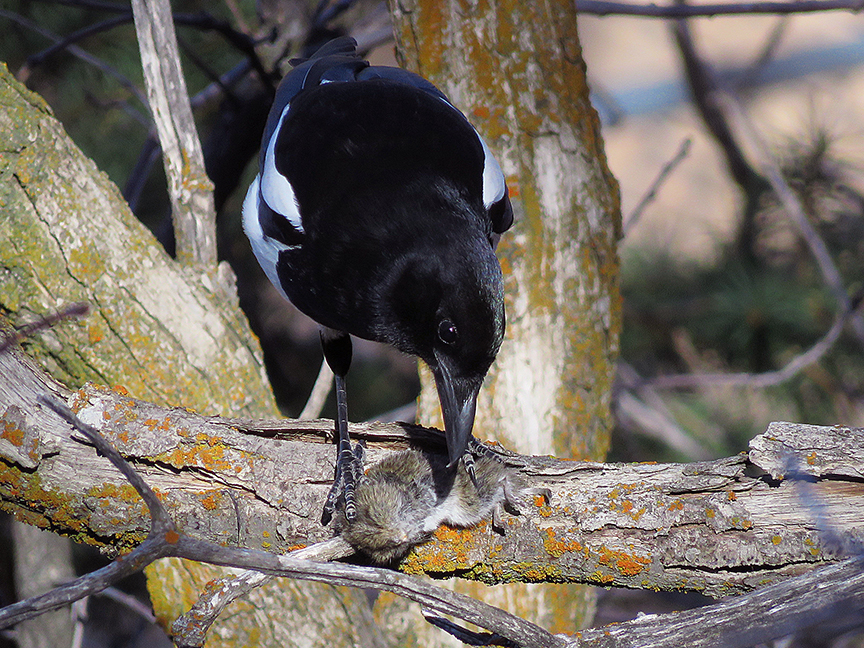 A lovely cool morning with fair skies and plenty of sun. Cool in the shade, anyway. The mud's drying up fast—although we're advised to expect some rain (possible snow) over the next few days).
A dozen species again—though nothing outlandish. In fact, my most outlandish sighting involved arguably the commonest bird species in these parts: a magpie dining on a dead vole (I think it was).
Lots of towhees singing up the trail. (Lots of 'em.)
Grandeur Peak Area List
Beginning at 9:15 a.m., I hiked a couple hundred feet up the mountain.
1. Black-billed Magpie*
2. Northern Flicker** (v)
3. American Robin*
4. Downy Woodpecker (v)
5. Black-capped Chickadee*
6. House Finch* (v)
7. Pine Siskin
8. Woodhouse's Scrub-jay*
9. Spotted Towhee
10. Dark-eyed Junco
11. Sharp-shinned Hawk
12. Song Sparrow* (v)
Elsewhere
13. Lesser Goldfinch (v)
14. European Starling
15. Eurasian Collared Dove
Mammals
Mule Deer
(v) Voice only
*Also elsewhere
**Voice only elsewhere
Tags: American robin, black-billed magpie, black-capped chickadee, dark-eyed junco, downy woodpecker, Eurasian collared dove, European starling, house finch, lesser goldfinch, northern flicker, pine siskin, sharp-shinned hawk, song sparrow, spotted towhee, Woodhous's scrub-jay