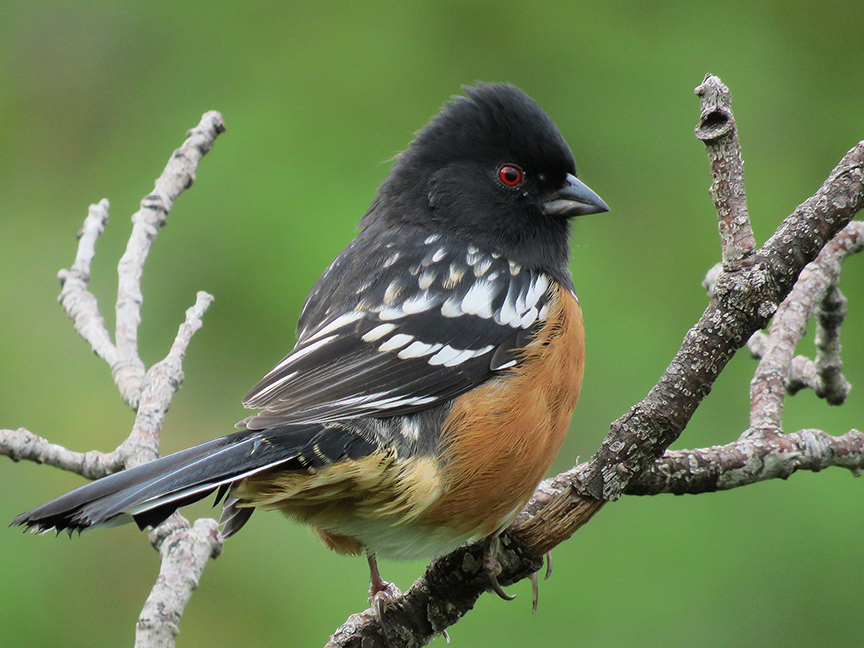 Steady rain for a couple hours this morning. First I've experienced in my six-plus weeks in Utah. A break came at mid-morning, so Jack and I headed up the mountain.
Also first mud I've experienced here. Was hopeful for some migration action—and got a little, including my first glimpse of Townsend's Warbler and Hammond's Flycatcher (no photos, alas) Also an unidentified warbler passing through, along with a couple of unidentifiable passerines moving overhead.
Couldn't really decide which photo to post first, a white-crowned I spied on the trail, or one of the resident towhees that perched for a portrait. Decided on the towhee, since it's the common, handsome resident.
Lovely morning.
Grandeur Peak Area List
Beginning at 10:15 a.m., I hiked a few hundred feet up the mountain.
1. Northern Flicker**
2. House Finch*
3. Blue-gray Gnatcatcher*
4. Wood-warbler (sp.)
5. Black-capped Chickadee
6. Spotted Towhee
7. Hammond's Flycatcher†
8. Ruby-crowned Kinglet
9. Townsend's Warbler†
10. White-crowned Sparrow
11. Hairy Woodpecker** (drumming)
12. Black-billed Magpie
Elsewhere
9. Eurasian Collared Dove
10. House Sparrow
12. Lesser Goldfinch
13. Rock Pigeon
14. Song Sparrow (v)
15. Woodhouse's Scrub-jay (v)
v = Voice only
*Also elsewhere
**Voice only elsewhere
†A lifer for me
Tags: black-billed magpie, black-capped chickadee, blue-gray gnatcatcher, Eurasian collared dove, hairy woodpecker, Hammond's flycatcher, house finch, house sparrow, lesser goldfinch, northern flicker, rock pigeon, ruby-crowned kinglet, spotted towhee, Townsend's warbler, white-crowned sparrow, wood-warbler