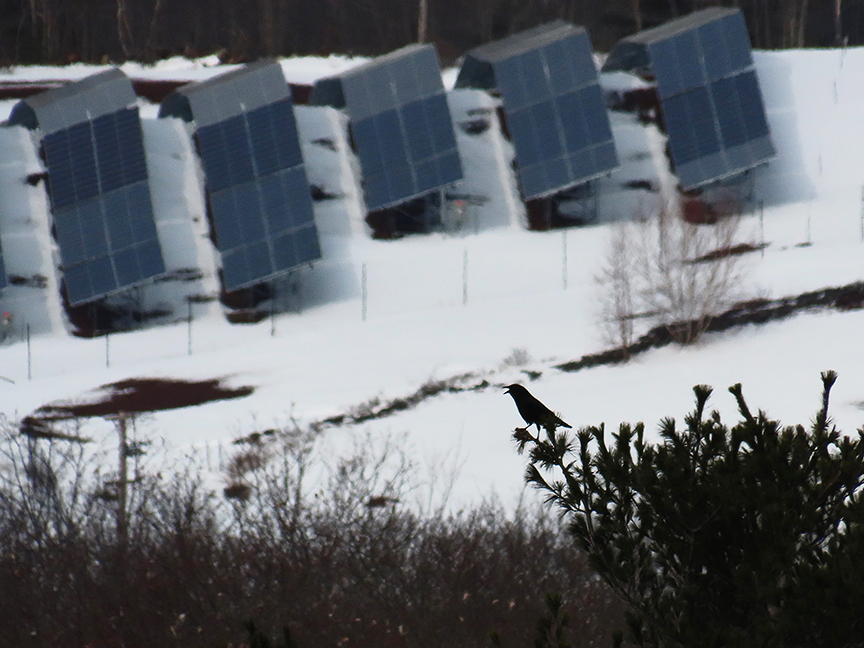 A chilly morning, mostly cloudy and right about freezing, but a calm one, with hardly a breeze. Had a great hike with dog, and listed a bunch of birds. Singing were titmice, chickadees, cardinals, bluebirds, a nuthatch, a junco—and crows and jays were hollering, as they like to do.
Got a pic of one of those crows with solar panels in the background. I want solar panels. I want an e-vehicle. I want to help save the planet.
Also saw a snowshoe hare, still nearly all white, and enjoyed the heck out of the few seconds it was leaping rapidly away.
Ducks at home. Gulls around. You can really tell it's nearly spring.
Beech Hill List
Beginning at 7:01 a.m. (8:01 fake time), I hiked all trails.
1. Blue Jay** (v)
2. Tufted Titmouse (v)
3. Northern Cardinal**
4. Black-capped Chickadee**
5. American Crow*
6. American Goldfinch** (v)
7. Eastern Bluebird
8. White-breasted Nuthatch
9. Downy Woodpecker** (drumming)
10. American Robin
11. Dark-eyed Junco (v)
12. Herring Gull (v)
Elsewhere
13. Mallard
Mammals
Snowshoe Hare
(v) Voice only
*Also elsewhere
**Voice only elsewhere
†First-of-year
Tags: American crow, American goldfinch, American robin, black-capped chickadee, blue jay, dark-eyed junco, downy woodpecker, herring gull, northern cardinal, tufted titmouse, white-breasted nuthatch