Another bright, nippy morning, but without a lot of wind. Had only two species on the hill first thing—but one showed up in a flock. Spent a good while getting cold fingers while photographing Common Redpolls.
About midday, I couldn't resist taking a quick trip to the breakwater, knowing it was low(ish) tide and hoping for Purple Sandpipers. No sandpipers, but a bunch of typical winter birds—along with the half-dozen American wigeons that've been hanging out there for at least three weeks or so.
A bit sore tonight; still, two hikes are better than one.
Beech Hill List
Beginning at 8:45 a.m., I hiked the open trail.
1. American Crow*
2. Common Redpoll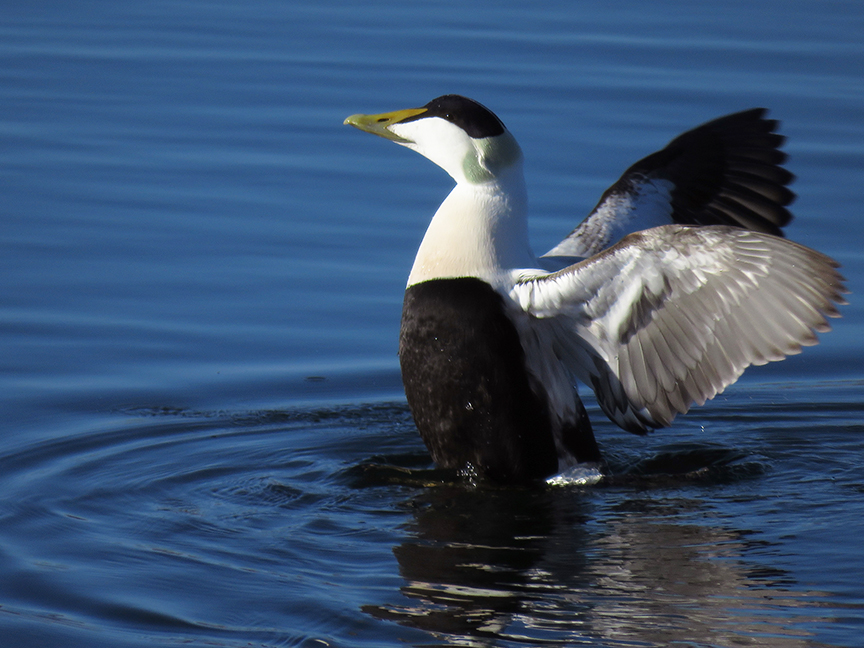 Rockland Breakwater List
Beginning at 12:15 p.m., I hiked to the light and back.
3. American Black Duck
4. Mallard*
5. Common Eider
6. Herring Gull*
7. Great Black-backed Gull
8. Long-tailed Duck
9. Red-breasted Merganser
10. American Wigeon
11. Common Goldeneye
12. Canada Goose
13. Black Guillemot
14. Horned Grebe
Elsewhere
15. Black-capped Chickadee (v)
16. White-breasted Nuthatch (v)
v = Voice only
*Also elsewhere

Tags: American black duck, American crow, American wigeon, black guillemot, black-capped chickadee, Canada goose, common eider, common goldeneye, common redpoll, great black-backed gull, herring gull, horned grebe, long-tailed duck, mallard, red-breasted merganser, white-breasted nuthatch