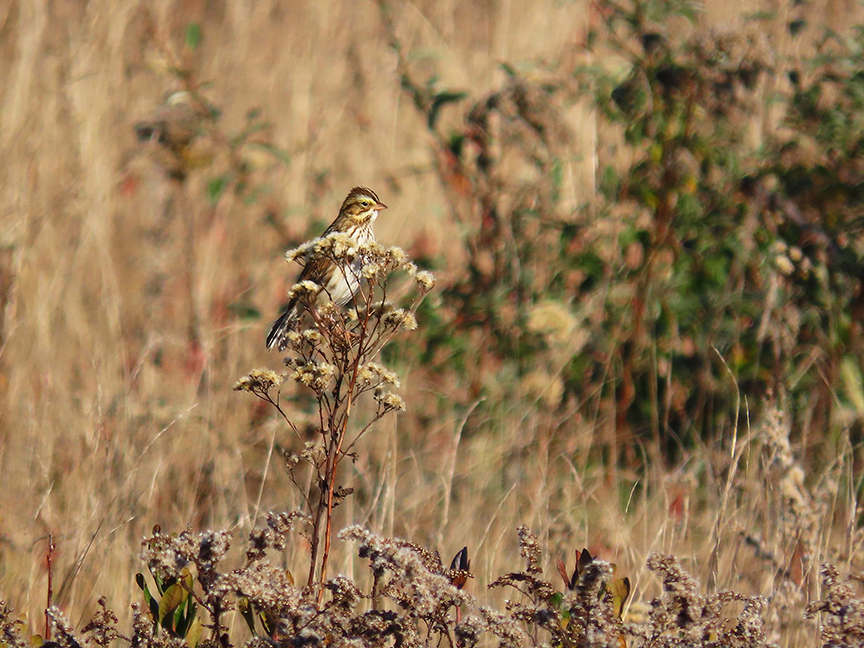 A little later, a little warmer than yesterday's hike—perhaps a little calmer air, as well. All this combined to deliver a few more birds. And an interesting variety, from thrushes, to woodpeckers, to finches, to corvids, to sparrows—even my first waxwing in a while.
Most notable might've been the (very loud) Red-shouldered Hawk that appeared low above the trees—too low for a photo, alas, but you can't miss this species' call.
Busy otherwise today—a fruitfully busy one. Frankly, I could relieve this day forever and be content.
But tomorrow will come another one. And what'll happen, no one knows.
Beech Hill List
Beginning at 8:06 a.m., I hiked all trails.
1. Tufted Titmouse
2. American Crow
3. American Robin**
4. Red-breasted Nuthatch (v)
5. Purple Finch
6. Black-capped Chickadee**
7. Downy Woodpecker
8. Red-bellied Woodpecker
9. American Goldfinch
10. Hairy Woodpecker
11. Yellow-rumped Warbler
12. Blue Jay** (v)
13. Eastern Bluebird
14. Northern Flicker
15. Cedar Waxwing
16. Song Sparrow (v)
17. Savannah Sparrow
18. Red-shouldered Hawk
19. White-throated Sparrow
20. Brown Creeper
Mammals
American Red Squirrel
(v) Voice only
*Also elsewhere
**Voice only elsewhere
†First-of-year
Tags: American crow, American goldfinch, American red squirrel, American robin, black-capped chickadee, blue jay, brown creeper, Cedar waxwing, downy woodpecker, eastern bluebird, hairy woodpecker, northern flicker, purple finch, red-bellied woodpecker, red-breasted nuthatch, red-shouldered hawk, savannah sparrow, song sparrow, tufted titmouse, white-throated sparrow, yellow-rumped warbler