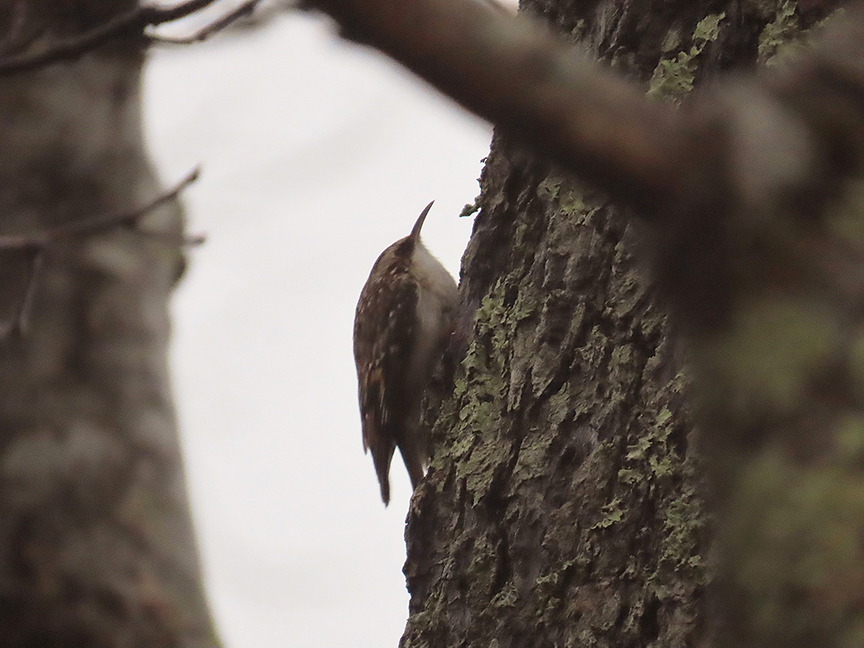 Big rains overnight, and a crazy temperature this morning of 50 degrees (F). Anthropogenic warming is so affecting this particular patch of the planet. (I hear Maine snowmobile fanatics have nowhere to go.)
So I didn't expect much action this very windy morning. Found a good time to hike with Captain Jack—a lull in the rain—and we set off. Not many birds at all (no surprise). In fact, I had a crow on my list for most of the hike before I heard a couple chickadees.
Then a gull flew by in the windy air. And I heard the voice of a jay. And, finally, as we got back to the truck, I managed to get a half-way decent bird photo (see above).
Beech Hill List
Beginning at 8:16 a.m., I hiked all trails.
1. American Crow
2. Black-capped Chickadee
3. Herring Gull
4. Blue Jay
5. Red-breasted Nuthatch
6. Brown Creeper
Elsewhere
7. Mallard
(v) Voice only
*Also elsewhere
**Voice only elsewhere
†First-of-year
Tags: black-capped chickadee, blue jay, brown creeper, herring gull, mallard, red-breasted nuthatch