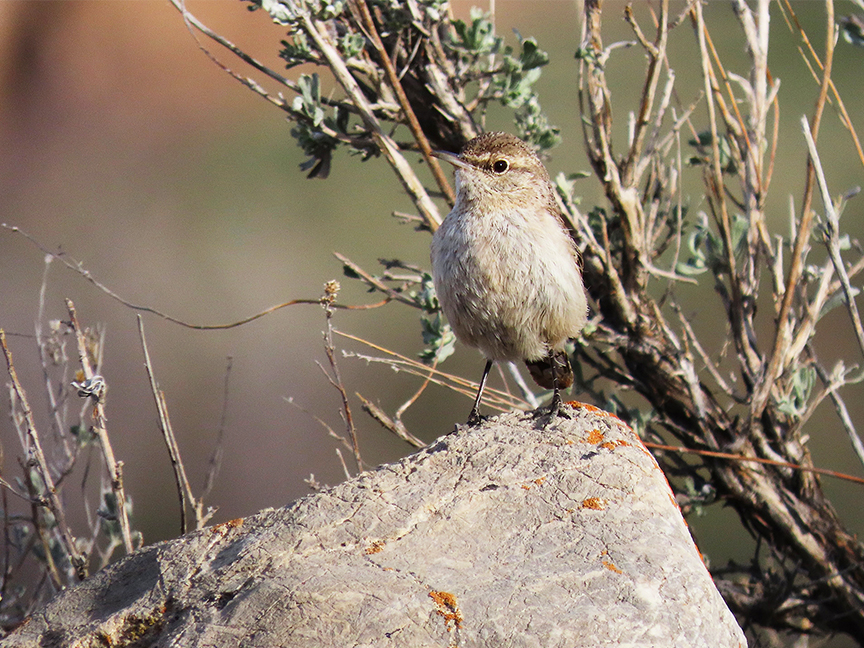 Dog and I hiked a bit later this morning, in weather much like yesterday's—but with a veil of clouds and a breeze. And a goodly number of bird species. Also more deer: more than a dozen in the junipers, despite the unseasonable heat and dryness.
Most noteworthy was the glimpse I got a glimpse of a Northern Harrier in flight (I've only seen one or two here), but most fun was a little chase I had with a Rock Wren, I suspect (but can't be sure) the same bird as yesterday. Also two doves, and a first-in-a-while Downy Woodpecker.
I'm advised to expect a little rain and more seasonable temperatures this coming week. Of course I'll hike in any weather.
Grandeur Peak Area List
At 7:56 a.m., sun time, I hiked a few hundred feet up a mountain.
1. Northern Flicker** (v)
2. American Robin*
3. House Finch*
4. Spotted Towhee
5. Rock Pigeon
6. Rock Wren
7. Black-capped Chickadee (v)
8. Black-billed Magpie**
10. Woodhouse's Scrub-jay**
11. Pine Siskin (v)
12. Northern Harrier†
13. Dark-eyed Junco
14. California Quail (v)
15. Downy Woodpecker (v)
16. Mourning Dove (wing whistle)
Elsewhere
14. Lesser Goldfinch (v)
15. European Starling
Mammals
Mountain Cottontail
Mule Deer
Red Squirrel (v)
(v) Voice only
*Also Elsewhere
**Voice only Elsewhere