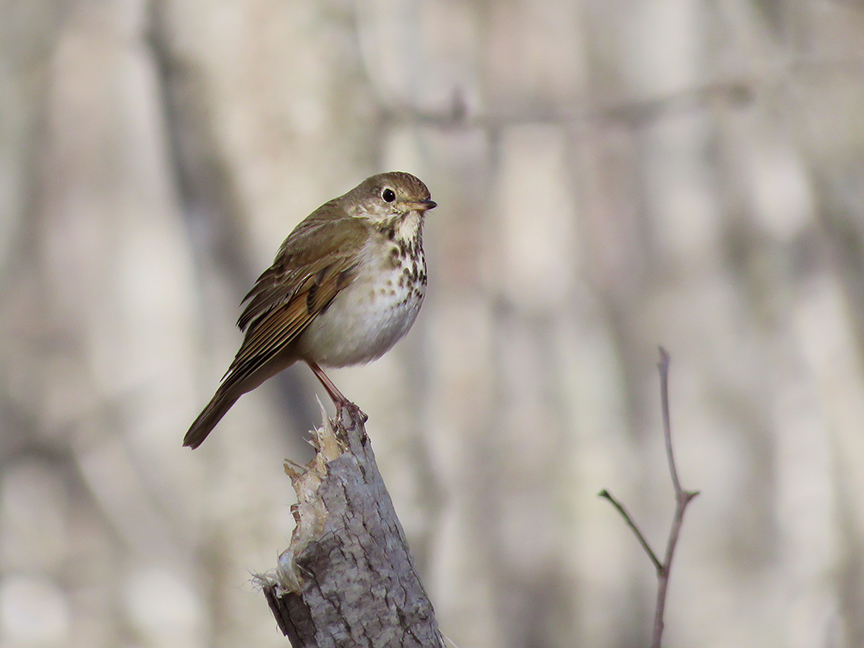 This morning was chilly, breezy, bright. The birds were there, but they were hunkered down, flitting in the shadows, keeping on the quiet side. So Jack and I had to sneak quietly around to find 'em.
Which was a lot of fun. Tiny subtle movements revealed vireos or thrushes or warblers. Not a lot of singing.
The most dramatic occurrence was when a raven descended into the woodland canopy directly above us (as we were standing still, listening to little birds), followed by crows. A raven can't go anywhere without an entourage.
Rain tomorrow, so they say. We shall see.
Beech Hill List
Beginning at 7:30 a.m., I hiked all trails.
1. Ovenbird (v)
2. American Robin (v)
3. Black-throated Green Warbler (v)
4. White-breasted Nuthatch
5. Black-and-white Warbler
6. Hermit Thrush
7. Tufted Titmouse** (v)
8. Black-capped Chickadee**
9. Turkey Vulture
10. Blue Jay**
11. Eastern Towhee
12. Great Crested Flycatcher (v)
13. Northern Parula
14. White-throated Sparrow
15. Herring Gull* (v)
16. American Crow*
17. Nashville Warbler (v)
18. Tree Swallow
19. Field Sparrow (v)
20. Yellow-rumped Warbler (v)
21. Common Yellowthroat
22. American Goldfinch**
23. Downy Woodpecker (v)
24. Eastern Phoebe
25. American Kestrel
26. Osprey
27. Chipping Sparrow**
28. Gray Catbird (v)
29. Blue-headed Vireo
30. Common Raven
31. Pileated Woodpecker
Elsewhere
32. House Finch
33. Rock Pigeon
34. European Starling
35. Ring-billed Gull
v = Voice only
*Also elsewhere
**Voice only elsewhere