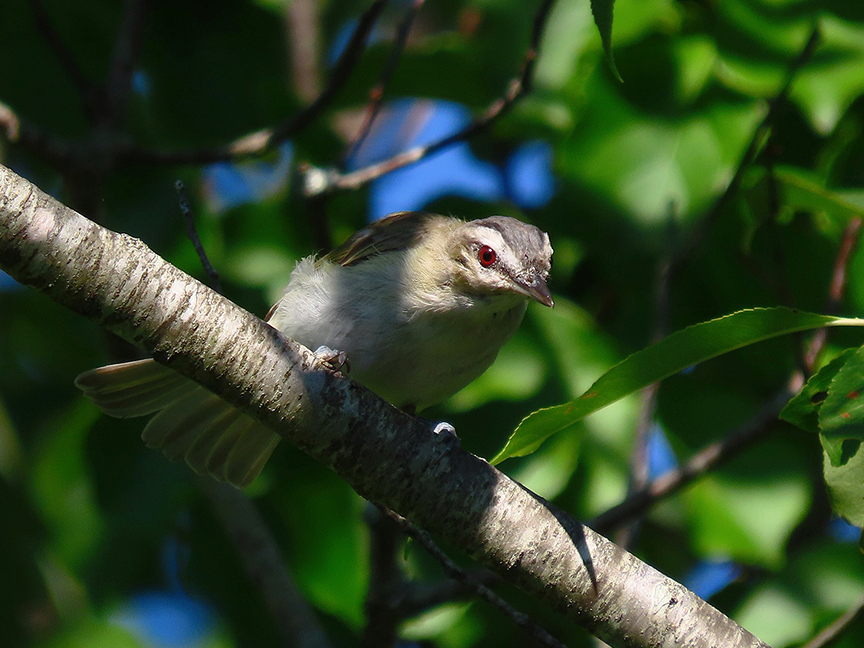 Here's a picture of a Red-eyed Vireo. It's a common species in the spring and summer woodland trails I hike with dog each day. These vireos flit around fairly high in the canopy, where the hardwood leaves provide good cover, and it's a challenge to get a decent photo.
Today, this one paused and posed.
Otherwise, an interesting hike: heard (then saw, in high flight) a Greater Yellowlegs; heard the first Pileated Woodpecker in a while; saw a bunch of later-summer dragonflies and butterflies. I lovely morning.
Looks like tomorrow morning we'll be hiking in rain showers. Which is better than fine. (We need rain.)
Beech Hill List
Beginning at 7:32 a.m., I hiked all trails.
1. Blue Jay (v)
2. American Goldfinch**
3. Black-capped Chickadee (v)
4. American Crow* (v)
5. Red-eyed Vireo**
6. Ovenbird
7. Eastern Towhee
8. Purple Finch
9. Eastern Wood-pewee
10. Brown Creeper (v)
11. Yellow-rumped Warbler (v)
12. Red-bellied Woodpecker (v)
13. Alder Flycatcher (v)
14. Gray Catbird**
15. Song Sparrow**
16. Cedar Waxwing
17. Yellow Warbler (v)
18. Savannah Sparrow
19. Common Yellowthroat (v)
20. American Robin (v)
21. Pileated Woodpecker (v)
22. Red-breasted Nuthatch (v)
23. Tufted Titmouse
24. Greater Yellowlegs
25. Chestnut-sided Warbler
(v) Voice only
*Also elsewhere
**Voice only elsewhere
†First-of-year