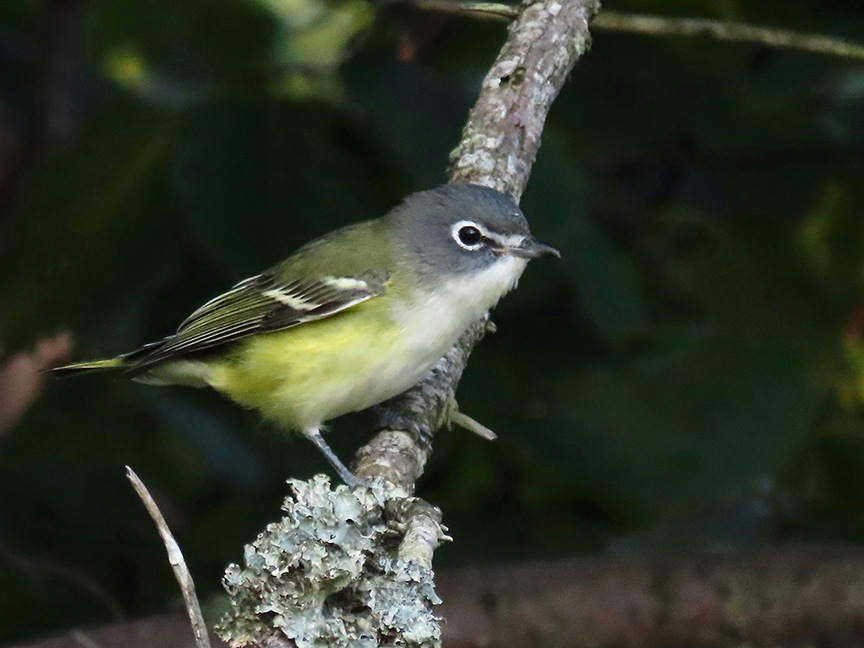 Another clear, breezy morning with a nice assortment of nervous birds. Among the several species up at the summit spruce grove, I spied a Blue-headed Vireo. It's been weeks since I've seen one, months since I've heard them singing. This one must've been on its way south.
As, by the way, was a nice-sized flock of migrating Monarchs—most I've seen so far.
No hawks today, but dog and I did spook another woodcock.
Beech Hill List
Beginning at 7:36 a.m., I hiked all trails.
1. Common Yellowthroat (v)
2. American Crow*
3. Blue Jay
4. Northern Flicker
5. Black-capped Chickadee
6. American Goldfinch** (v)
7. American Robin
8. Red-bellied Woodpecker (v)
9. Cedar Waxwing
10. Yellow-rumped Warbler
11. American Woodcock
12. Eastern Towhee (v)
13. Gray Catbird (v)
14. Purple Finch (v)
15. Red-breasted Nuthatch
16. Blue-headed Vireo
17. Song Sparrow
18. Hermit Thrush
19. Osprey
20. Downy Woodpecker (v)
Elsewhere
21. Mourning Dove
Mammals
Eastern Gray Squirrel
American Red Squirrel
Eastern Chipmunk
(v) Voice only
*Also elsewhere
**Voice only elsewhere
†First-of-year
Tags: American crow, American goldfinch, American red squirrel, American robin, American woodcock, black-capped chickadee, blue jay, blue-headed vireo, Cedar waxwing, common yellowthroat, downy woodpecker, eastern chipmunk, eastern gray squirrel, eastern towhee, gray catbird, hermit thrush, herring gull, mourning dove, northern flicker, purple finch, red-bellied woodpecker, red-breasted nuthatch, savannah sparrow, song sparrow, yellow-rumped warbler