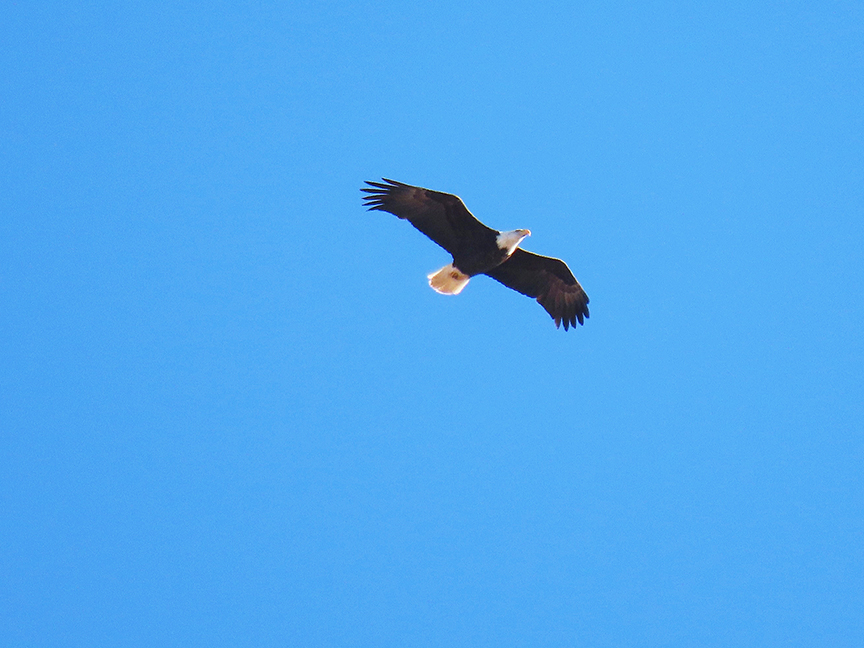 Started up the switchback a little later than the past few days. The morning was warmer—right about freezing—and the birds seemed to like the (brief) reprieve: dozens of juncos, singing finches, vocal jays, a pair of eagles—the cool thing being the eagles were of differing species.
First I happened to spy a high-flying Golden Eagle circling above the cairn ridge, then ten or fifteen minutes saw it again—that is, I assumed it was the same bird. Turned out to be a Bald Eagle (a species I see far less frequently than goldens).
The bald appeared just to be passing through.
Grandeur Peak Area List
At 09:37 MST, I hiked a few hundred feet up a mountain.
1. Black-billed Magpie**
2. House Finch*
3. Black-capped Chickadee
4. Rock Pigeon*
5. Woodhouse's Scrub-jay
6. Dark-eyed Junco
7. Golden Eagle
8. Lesser Goldfinch
9. Townsend's Solitaire (v)
10. Bald Eagle
Elsewhere
11. Song Sparrow (v)
12. Spotted Towhee
Mammals
Red Squirrel
Mule Deer
(v) Voice only
*Also elsewhere
**Voice only elsewhere
Tags: bald eagle, black-billed magpierock pigeon, black-capped chickadee, dark-eyed junco, golden eagle, house finch, lesser goldfinch, mule deer, red squirrel, rock pigeon, song sparrow, spotted towhee, Townsend's solitaire, Woodhouse's scrub jay