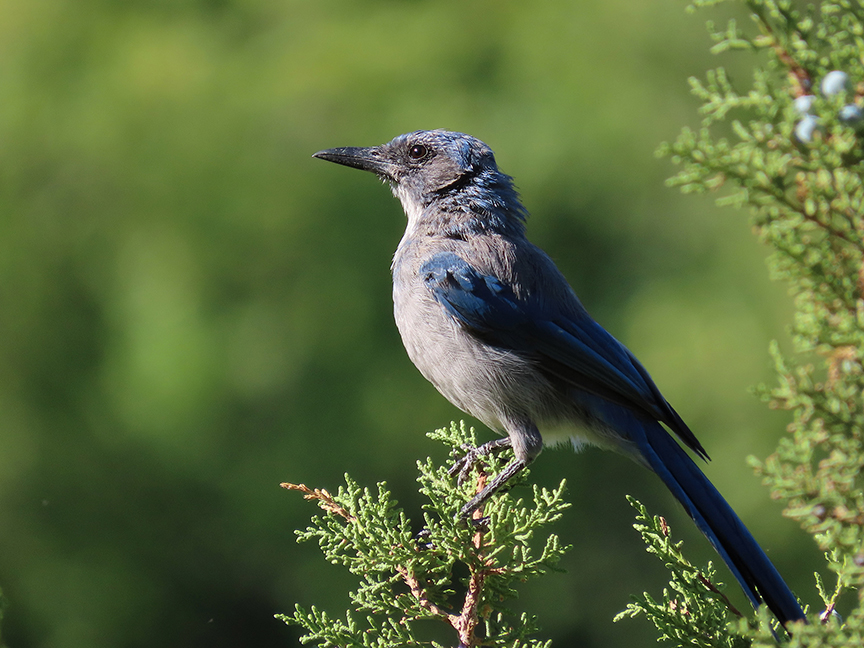 Even quieter this morning. Warmer, breezier, and quieter. Took longer to count more than a handful of species—and the numbers didn't come until the sun topped the ridge.
Fewer individual birds than yesterday, but lots of juvies still. Saw a warbler I couldn't ID before it flew. [I think it might've been an orange-crowned.] Lots of buntings and towhees still—but few singing.
Nothing rare or thrilling maybe, but Captain Jack and I loved it anyway. Plus, I got a portrait of a scrub-jay.
Grandeur Peak Area List
Beginning at 8 a.m., I hiked a few hundred feet up a mountain.
1. Rock Pigeon*
2. Woodhouse's Scrub-jay
3. Black-capped Chickadee**
4. Mourning Dove
5. House Finch**
6. Blue-gray Gnatcatcher
7. Black-chinned Hummingbird
8. Spotted Towhee
9. Lazuli Bunting
10. American Robin
11. Warbler (sp.)
12. Pine Siskin (v)
13. Lesser Goldfinch**
Elsewhere
14. Black-billed Magpie
15. Eurasian Collared Dove
16. House Sparrow
(v) Voice only
*Also elsewhere
**Voice only elsewhere
Tags: American robin, black-billed magpie, black-capped chickadee, black-chinned hummingbird, blue-gray gnatcatcher, Eurasian collared dove, house finch, house sparrow, lazuli bunting, lesser goldfinch, mourning dove, rock pigeon, spotted towhee, warbler (sp), Woodhouse's scrub jay