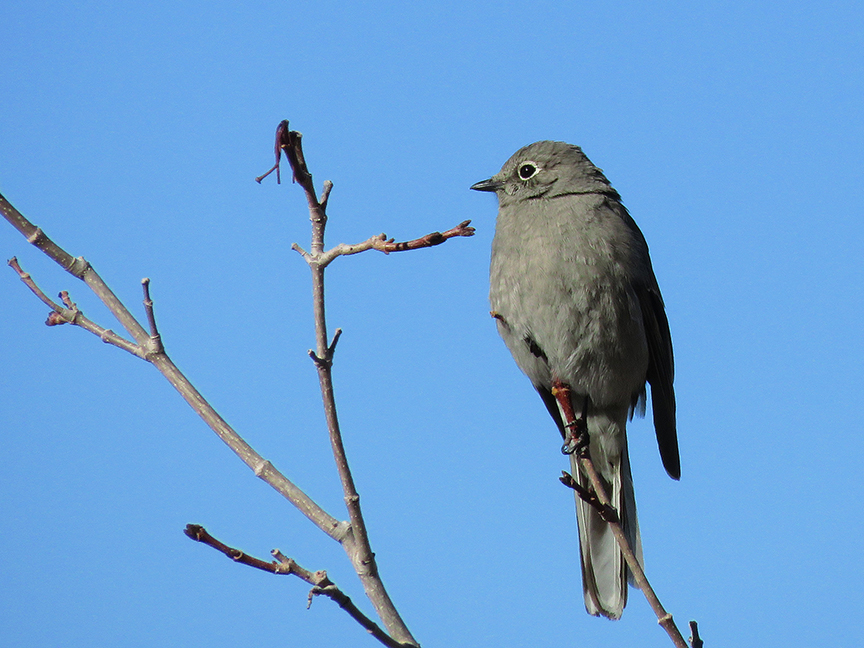 Hardly a cloud in the sky this morning. Warm in the sun, cold in the shade. Wildlife was hard at it, too, with spring just a few weeks away—elk and deer high up the mountainside, assorted bird species along the trail.
Most noteworthy today was a flyover by a pair of ravens and a solitaire hanging around, posing for photos.
(Also a whole bunch of robins.)
Grandeur Peak Area List
Beginning at 9:15 a.m., I hiked a few hundred feet up the mountain.
1. Black-billed Magpie*
2. House Finch*
3. Woodhouse's Scrub-jay**
4. Black-capped Chickadee**
5. Dark-eyed Junco*
6. American Robin*
7. Common Raven
8. Lesser Goldfinch**
9. Townsend's Solitaire
10. European Starling
11. Song Sparrow* (v)
Mammals
Rocky Mountain Elk
Mule Deer
(v) Voice only
*Also elsewhere
**Voice only elsewhere
Tags: American robin, black-billed magpie, black-capped chickadee, common raven, dark-eyed junco, European starling, house finch, lesser goldfinch, mule deer, rocky mountain elk, song sparrow, Townsend's solitaire, Woodhouse's scrub jay