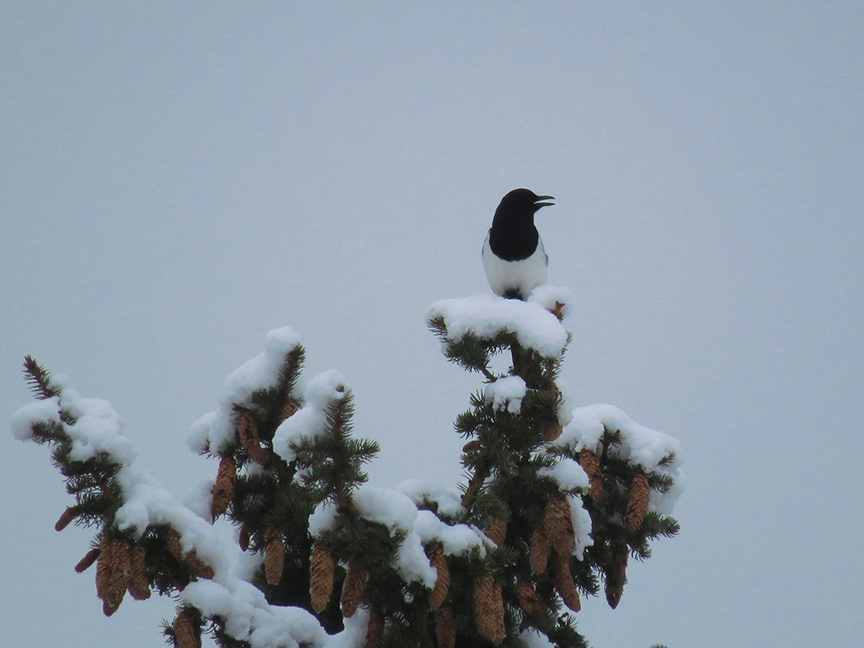 Snow came overnight, as forecast. Had a couple inches at the house by the time it eased up—at which point Jack and I took off for the trailhead. About five inches of heavy wet snowfall up there.
Also fog—pretty thick fog. Heard quite a few birds but didn't spot a one. However, a magpie posed like an ornament back in the neighborhood.
Grandeur Peak Area List
Beginning at 10:15 a.m., I hiked a few hundred feet up the mountain.
1. Black-capped Chickadee (v)
2. Woodhouse's Scrub-jay (v)
3. House Finch* (v)
4. Black-billed Magpie* (v)
5. American Robin (v)
6. Dark-eyed Junco (v)
7. American Goldfinch** (v)
8. Northern Flicker (v)
Elsewhere
9. Eurasian Collared Dove
v = Voice only
*Also elsewhere
**Voice only elsewhere
Tags: American goldfinch, American robin, black-billed magpie, black-capped chickadee, dark-eyed junco, Eurasian collared dove, house finch, northern flicker, Woodhouse's scrub jay